I've seen it done before, but not for a long time. I have 1 Sandy with a bald spot & defined boarders and 1 Sandy that has more of a "wear" bald spot with a gradual decrease in terry until the bare center bald spot. I want to post pics directly here so you guys can see the difference and tell me which kind you have & location.
But I don't want to link the pics, I just want quick reference.
Anybody know how?
It is appreciated!
Ok I'm going to try a few times here...

This is one of my bamboo OS. The lighting right now isn't good, so you can't really see it too well, but this is some of the thinning I have going on...

<a href="http://s88.photobucket.com/albums/k171/golgi1/?action=view&current=damage.jpg" target="_blank">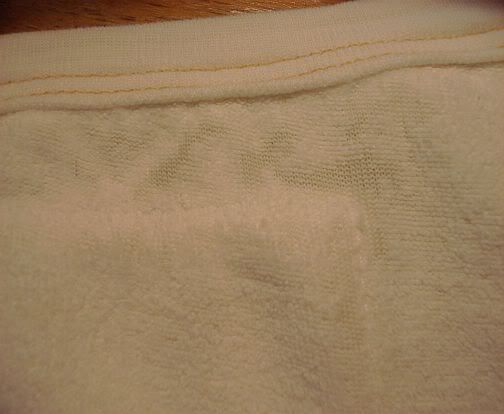 </a>

Ok, I just uploaded it to Photobucket, and did a copy/paste of the HTML code. It worked!
Awesome! I'll do it later this evening, so stay tuned. Busy daycare day today, no time. This will help alot. It is hard to take an upclose pic of white on white, isn't it? I think I got a few good ones, so we'll see.
Thanks newtwinmommy!
Weird... You seem to see the photo that the PP posted, but I don't see anything! I wonder if it's just me (I am at work and my employer blocks some Internet sites, but the forum is not blocked so I don't think only the photo would be blocked) or if other people will have the same issue. I'd be curious to know if everyone else sees the photo?
Neat that you can add pictures!! Have you sent those to ME, as they should be the ones to help you!?!
-Sarah
Yeah, absolutely send those to ME. Maybe attn your email to Erika. That's who I got referred to as soon as I mentioned my problem. I'll be sending mine to ME too, but I wanted to post them here also so you guys know what those of us who have spots are seeing. Because I have 2 different kinds of spots.
Are everybody else's spots by where the soaker is sewn in on the outside of the diaper? Or by seams? Both mine are and Sara said hers are and newtwinmommy's are too.
That's weird.
Just wondering...
I've actually dyed some of my Large Sandies last weekend so the bare spots are really easy to see!! I'll take some pics tonight and try posting them on here for you guys to see...
Hey. You know, my one worn bald spot kindof looks like a wear spot on the corner of like where your jeans pocket is sewn to your pants. I mean, the wear seems abnormally soon since they are only 8 months old but they are worn once every 3 days. I don't have any old cotton diapers to compare it too. Do you usually see this kindof wear eventually with cotton dipes? The wear spot doesn't worry me as much as the bald spot that came from nowhere. Just curious if anyone has older cotton dipes to compare the wear to.
I have some 4-year-old constantly-used OS with no worn spots at all. I do line-dry, and that may make some difference, but they still look awesome. Probably not quite as fluffy as new, but pretty darn good.
Fanfreluche--I can see the pic.
It took years (of regular use) for my regular unbleached ME's to look like that! (i have diapers that are 10 year old, that are in better condition, but most of my very old dipes are equal or worse, but all still usable)
Glad you can see the pic.
I have some older ME one-size cotton dipes that I bought used, they are probably 4-5 years old, and none of them have anything near this type of wear! These bamboo dipes are 8-9 months old and I bought them brand new.
Most of my thin areas are all around wear the inside soaker was sewn to the outside of the diaper.
I have contacted ME - they are apparently sending me a SASE to send in one of my diapers to take a look at. Its been 2 weeks since they emailed me though and told me that, maybe I should contact them again.
Nakedbabytoes, I don't upload pics to photobucket. I can email you some. My organic sandies have the holes at the top where the elastic is on the front and it is both and the same spots. My Bamboos are seeming to start in the same spots.

Does anyone else know how to post from kodak?


Anybody who wants to send me pics directly is certainly welcome to.
My addy is nakedbabytoes@yahoo.com
Yeah, I know how original! What can I say, I like naked baby toes!
Please include your info with the pic. Like your screen name so I can match dipes to washing info. Maybe a real name too, in case Erika needs to match your info to your purchase.
Thanks for the info about the wear spots. I just have nothing to compare it to, so I thought I might be looking too hard for problems & being picky about normal wear & tear.
I don't want to be unfair to anybody. Just factual. And realistic.
<a href="http://s715.photobucket.com/albums/ww152/nakedbabytoes/?action=view&current=P1010057.jpg" target="_blank">
</a>
<a href="http://s715.photobucket.com/albums/ww152/nakedbabytoes/?action=view&current=P1010059.jpg" target="_blank">
</a>
okay! First pic=the "worn" spot. Graduated edges, down to netting in center. Irregular edges & not a contained shape.
Second pic=the "bald" spot. From regular terry to netting in a snap. No gradual decrease in terry. Irregular shape kindof, but a contained shape with defined boarders.
Oddly enough, both of them directly below the soaker seam outside the dipe. I do have 4-6 more "wearing thin" spots just like the "worn" spot only not as bad. Again, in same area.
Here goes nothing:

<a href="http://s102.photobucket.com/albums/m95/maudrouleau/?action=view&current=Image053.jpg" target="_blank">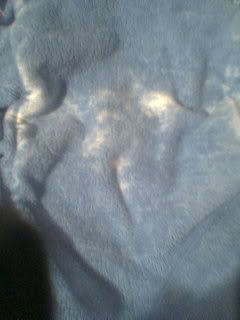 </a>

<a href="http://s102.photobucket.com/albums/m95/maudrouleau/?action=view&current=Image054.jpg" target="_blank">
</a>

<a href="http://s102.photobucket.com/albums/m95/maudrouleau/?action=view&current=Image055.jpg" target="_blank">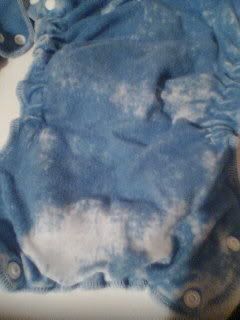 </a>

<a href="http://s102.photobucket.com/albums/m95/maudrouleau/?action=view&current=Image058.jpg" target="_blank">
</a>